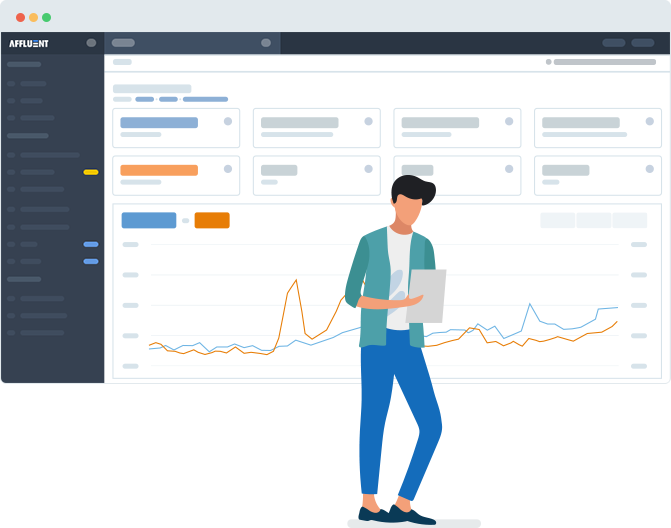 Manage multiple affiliate platforms with ease
Affluent aggregates data from any affiliate platform you use into one unified dashboard so you can save time, leverage data, and grow your business.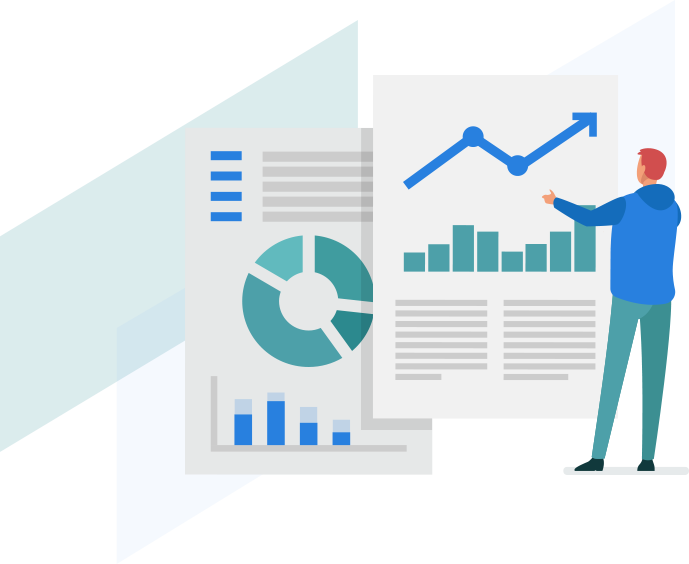 Consolidate Your Reporting
Affluent standardizes data from any platform, allowing you to create completely customizable, reports that encapsulate what's important to you so you can get your head out of Excel and into the work that matters.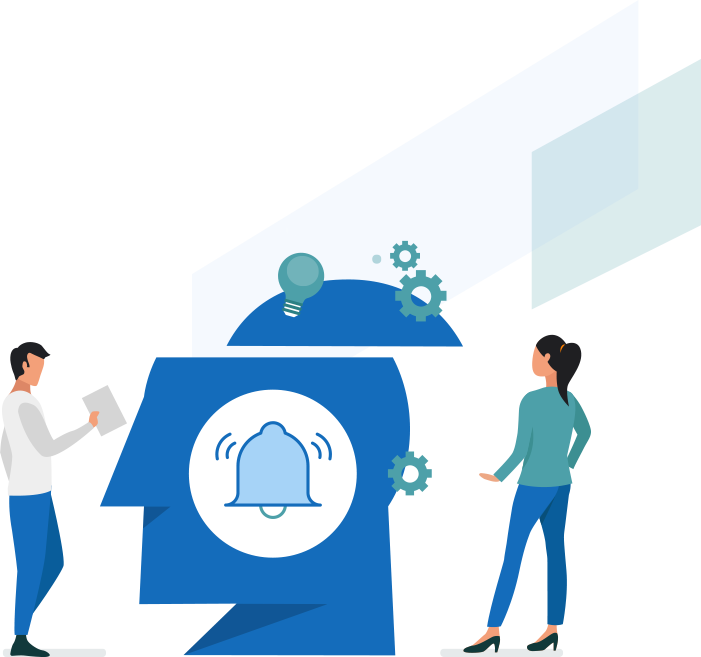 Intelligent Algorithmic Alerts
Keep an eye on performance, 24/7. Affluent scans data daily and alerts you about opportunities and potential problems so you can be proactive instead of reactive in growing programs and fighting fires.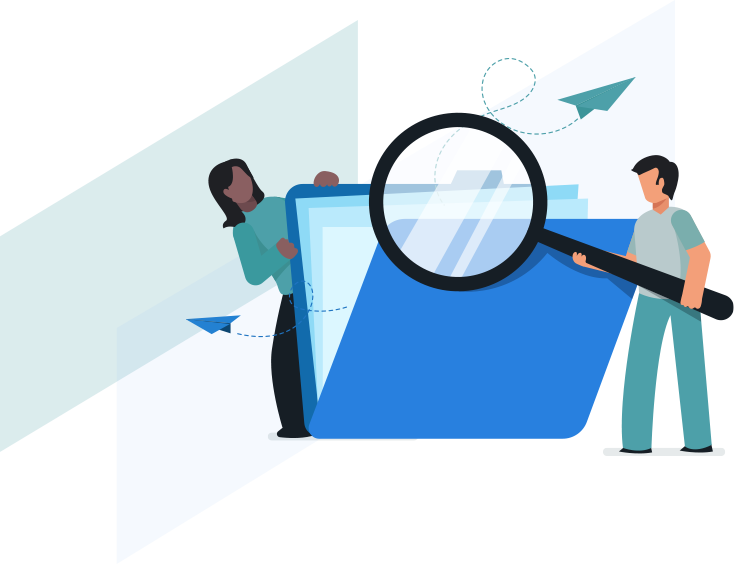 Portfolio-Wide Publisher Intelligence
Analyze the performance of publishers across your whole portfolio, increase negotiating power with publishers, see how you're doing with recruitment, and run advanced gap analyses to see where your publishers could be doing more.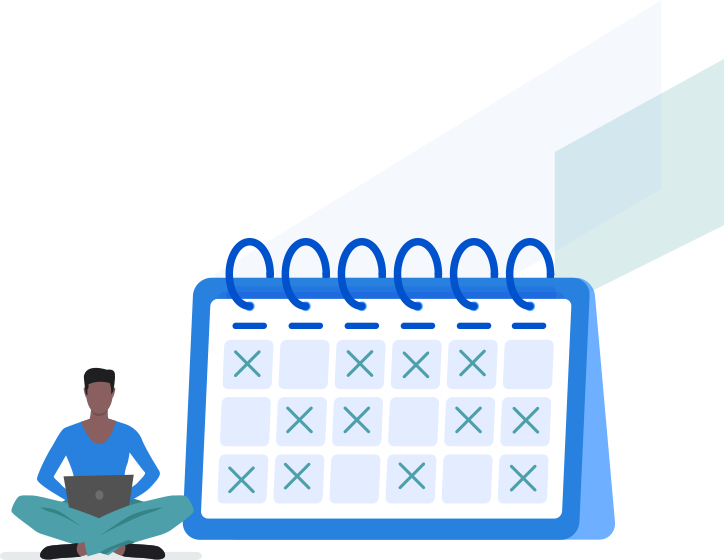 Centralized Placement Tracking
Say goodbye to Google Sheets for tracking everything you're working on! Affluent allows you to view and analyze any events – placements, promotions, tracking issues or otherwise, in one convenient place.
Other Features
Simplified Platform Migrations

Keep old data after an account is closed so you can compare performance before and after migrations.

Management Level Reporting

Create reports by account manager, business unit, or industry. Track revenue to build the full picture of your business.

Branded Client Portals

Create dashboards and give your clients login access to your own branded portal complete with logos and agency colors.

Intelligent Cross-Recruitment

Run quick and easy gap analyses to find publishers working with some of your clients but not others.

Custom Dashboards

Affluent's custom reporting system allows you to create entirely customizable dashboards to see anything from high level overviews to granular breakdowns of data.

Report on True Cost

Easily add and report on network fees, agency fees, non-reported placement fees and more to give your clients a full picture of costs.

Merged Publishers

Affluent merges accounts belonging to the same publishers into one "merged publisher" – giving you a view of your activity with any publisher across your whole portfolio.

Centralized Tagging & Groups

Tag and group publishers and brands across networks for one organized master list.
Integrations With Over 500 Networks
Affluent is integrated with over 500 affiliate platforms with new networks added regularly. Have a network we haven't covered yet? Let us know and we'll build it for you – the development is on us!
What our clients say
"Affluent is by far the best solution to aggregate all of your performance marketing data, providing invaluable actionable insights and easy to use interface for our Account Managers to do their job. SmarterChaos has really taken off as the leading performance marketing agency in the space as a result of adopting Affluent early and weaving it into our regular interactions with Clients. We cannot thank the Affluent team enough for customizing the interface for us and providing unparalleled responsive Customer Support as our team solves these complicated marketing issues with our Clients. We are an avid fan of Affluent."

Matt Frary, Chief of Chaos

Smarter Chaos | CEO

"When the ebove & beyond team met the Affluent team at a conference last year, it was certainly one of our best 'take aways' from the show. The Affluent team is so helpful, they are really quick to respond, and patiently answered our long list of questions as we began integration. Their willingness to customize the tool to meet each of our merchant's individual needs is key. Their product has definitely 'upped our reporting game' in look, accuracy, detail and at-your-fingertips availability. Once you take the time to set up a report, it's effortless from then on which is a huge time saver for busy program managers. As the owner of a small business, it is critical for me to be very selective in any spend to ensure a solid return…Affluent has been that and more!"

Jennifer Myers Ward

Ebove & Beyond, inc. | CEO

"We couldn't be happier with the optimizations in our reporting that we've seen working with Affluent! Only several months into our partnership, and we've already seen huge growth in the quality of our reports and the customization that we can provide to our clients. Especially as a team managing over forty brands, the ability to easily create, adjust, and detail reports is essential to both internal efficiency and client satisfaction. The Affluent team, as well, has been nothing short of helpful, always kind, quick to respond, and ready with a solution. Most recently, the Affluent Events feature has helped us to effectively manage our placements, streamlining our reporting even further. We look forward to our continued partnership!"

Jennifer Goodwin

PMX Agency | Former Director of Affiliate Marketing

"We love using Affluent to help us check in on the performance of our programs with just a couple of clicks. Our team really enjoys the convenience of setting up customized dashboards for the programs they manage. This quick view helps them to see performance across several different networks aggregated in one place. Affuent reports are easy to read, complete with charts that are clients have grown to love. Scheduling tailored reports for each client's needs saves us time and makes Monday mornings much easier to handle. To top it all off, the customer service we get from Yon and Emma is outstanding! We are consistently striving for ways to do things more efficiently and Affluent has gone a long way towards helping us get there."

Stephen Robinson

JEB Commerce | Director of Affiliate Marketing

"Affluent saves our account managers countless hours on client reporting, allowing them to focus on improving performance and maximizing returns for our clients. Beyond that, Affluent is a great management tool, allowing our senior team to review all of AIM's clients and see the big picture all in one place."

Sarah Bundy

All Inclusive Marketing Inc. | Founder & CEO
Stay in the Know
Get our latest news and insights right in your inbox