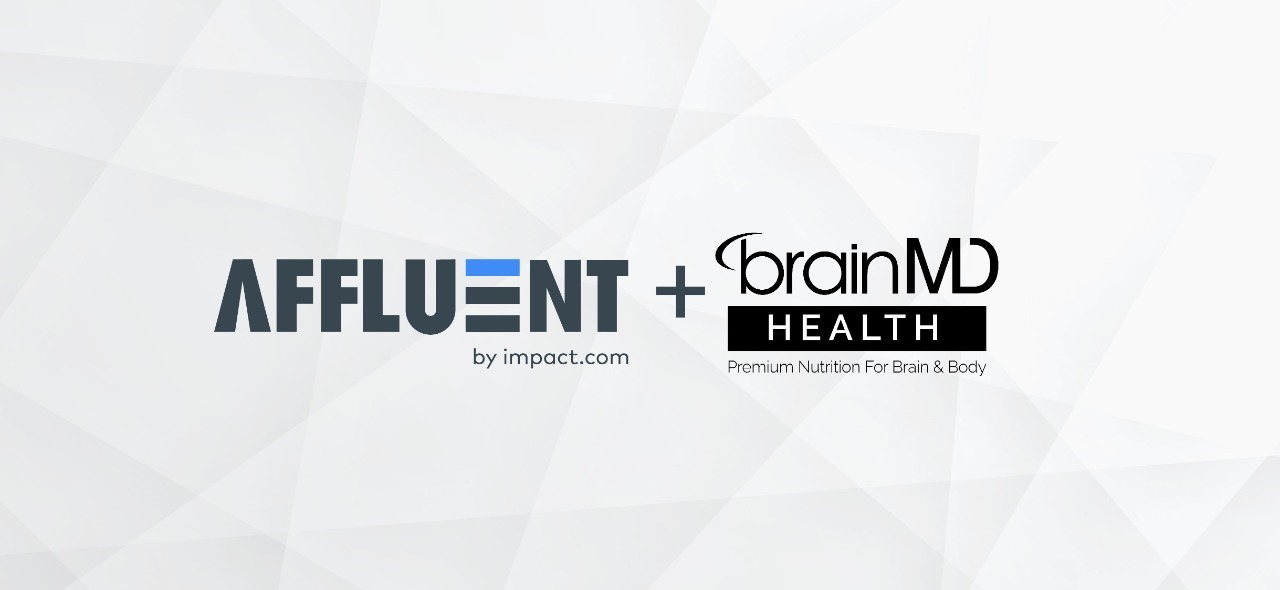 Here's what made Affluent a smart move for BrainMD
My journey with Affluent began in my previous role at an affiliate marketing agency, and came from sheer necessity. We would spend countless hours each week pulling numbers from advertiser dashboards for weekly, monthly, and quarterly reporting using spreadsheets and pivot tables. Talk about frustrating! Like many, I find spreadsheets to be challenging and error-prone, not to mention time-consuming. Then we found Affluent, which was a game-changer for our business.
Affluent eliminated a lot of the technical yet repetitive aspects of reporting and made it as simple as entering a beginning date and an end date, clicking 'run,' and adding my analysis. We successfully used Affluent's platform to deliver automation and efficiency on reporting, saving our business an average of five hours a week per account on manually collating data.
So, when I became the Affiliate Manager at BrainMD, I knew Affluent was the very first thing I wanted to add to my affiliate management toolbox.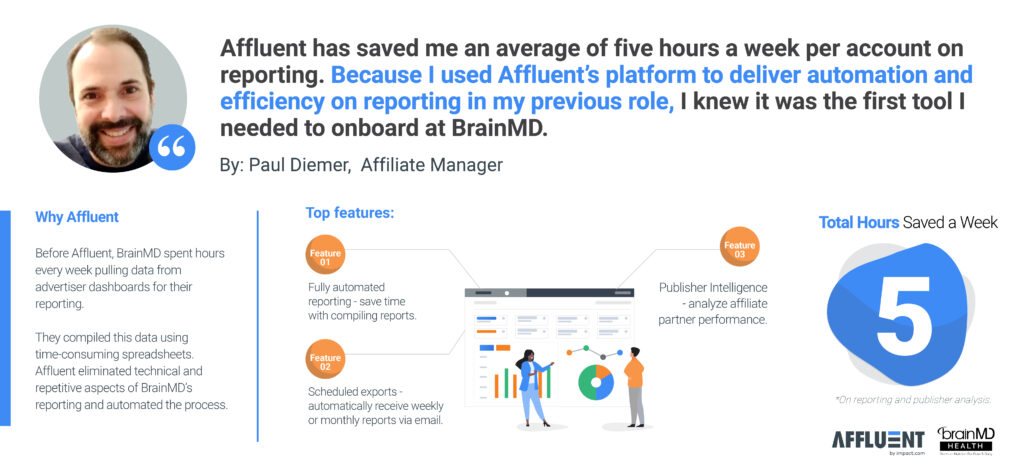 Less stress, more affiliate data intelligence
Time-saving and boosting productivity is important in our business. Working with Affluent has delivered phenomenal results and increased our overall affiliate marketing productivity by 15%. A great part of this is that all our reports are now fully automated – we just had to set it up once and now they're always up to date and ready. This has also been invaluable to me personally as I now have more time in my day for revenue-driving activities such as affiliate outreach and optimization efforts.
I especially like Affluent's Publisher Intelligence section for monitoring my partners' activity. With it, you can quickly see active publishers, productive publishers, the total number of publishers, any new publishers who have joined in a particular time frame, and publisher contact information.
I also use Publisher Intelligence to review which publishers have had the greatest performance increase or decrease over time. If there has been a downturn, I can reach out to investigate what's happened. The accessibility of the data in Publisher Intelligence has reduced our time spent analyzing data to an hour per week, leaving more time for publisher engagement.
Heading towards growth
For the future of the affiliate industry, I think we're going to face an overwhelming abundance of opportunities, and that's a great problem to have. We have workarounds for challenges like browser privacy and cookie tracking, but managing traditional affiliates and influencers can be time-consuming. Affluent has helped us save time and boost efficiency, freeing up our resources for affiliate outreach and bigger picture thinking.