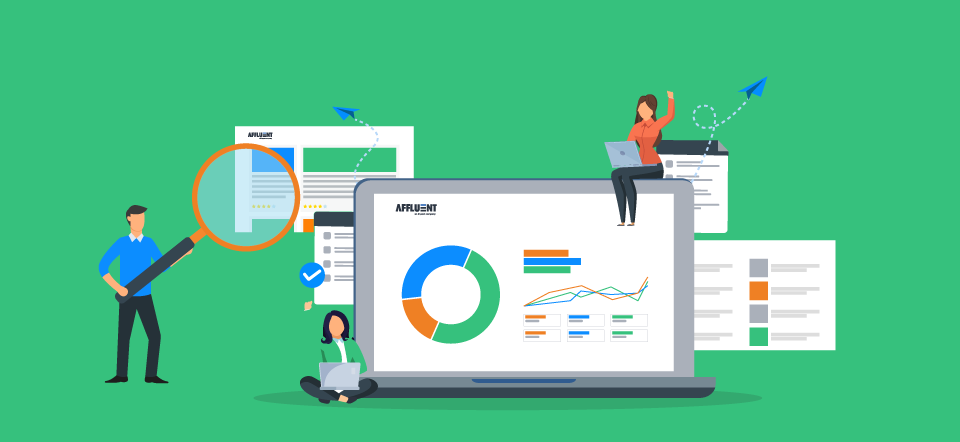 How to show your value and prove your ROI as an affiliate marketing agency
Estimated reading time: 3.5 minutes
At some point, you may have heard the proverb, "seeing something once is better than hearing about it a hundred times." As an affiliate marketing agency, you want to show your clients your value, and how you increase their return on investment (ROI) and add to their bottom line. With the right processes in place, you can speak less and say more. Data always has the last word.
You may look to manual processes or platforms to show your worth and streamline your workflow — but it's tricky to find the right solutions. In the end, you want to clearly illustrate how your efforts scale your clients' affiliate marketing success.
Free up Monday mornings with data aggregation and automated reporting
Regular, detailed reports are a surefire way to gain client trust and more ad spend. However, most affiliate agency professionals find it time-consuming and difficult to aggregate data from multiple platforms. Many agencies rely on an in-house or third-party development team to create custom dashboards for clients. This process costs the agency time and money — and could mean additional agency fees, discouraging prospective clients.
You need a platform that can do it all and save you time and money. Enter Affluent, a platform that lets you aggregate data in seconds and seamlessly transform that data into detailed reports. With a few swishes of your magic wand — or clicks of your mouse — you can instantly create custom, branded reports for your clients.
Automate reports and send them to clients on a daily, weekly, or monthly basis with Affluent. Free up your Monday mornings and even include countless variations of charts, tables, and data sets based on the client's needs and program goals. Yes, that does sound pretty amazing. Learn how you can take advantage of these features and more.
Add value, automate competitive intelligence, and save money in a few clicks
Once you've optimized reporting, you'll need to consider where else you can create value for your clients. Successful affiliate marketing strategies require data-driven decisions and ongoing campaign optimizations. If only there was a tool that could identify broken links and pages with out-of-stock products, while simultaneously performing competitive research… Oh, wait, there is! All of these capabilities — and many more — are available within the Affluent Link Scanner.
The Affluent Link Scanner helps you prove your value as an affiliate marketing agency with valuable information and:
Locate broken links (404s)
Pinpoint which retailers have sold-out products
Spotlight where your competitors find success
It's also no secret that these automated insights can save your clients a lot of money and time. For example, you can identify and fix broken links to improve publisher and client performance. Identify out-of-stock links and replace them with active product pages instantly. Ensure your publisher's direct consumers to in-stock pages — and grow your clients' ROI.
The Link Scanner will be your new favorite tool to:
Measure your share of voice
Automate competitive intelligence
Streamline and audit network migrations
To recap: how can your affiliate marketing agency prove your ROI to clients and show your value?
Supply detailed, regular program reporting using automated custom dashboards
Recover lost revenue from broken links and 404 errors
Identify retailers and publisher links with out-of-stock inventory
Automate competitor intelligence to discover new opportunities
Prove your worth through actionable data and insights with Affluent. Report on program improvements with custom dashboards and automated reports. Conduct ongoing competitive research to help your clients stay two steps ahead of competitors. With Affluent's suite of data aggregation, publisher intelligence, and affiliate optimization tools, you can easily demonstrate your value and increase your clients' ROI.
Want to enhance your affiliate program management? Contact Affluent now to learn more.